What's one change—big or small—that would make a significant difference in your life right now?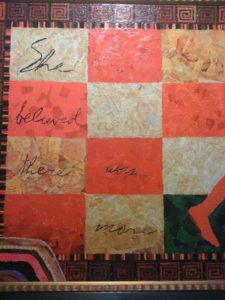 Maybe you'd like to change your morning or bedtime routine.
Maybe you'd like to change your schedule so that you can leave work at 5pm—for real—instead of working overtime.
Maybe you'd like to change the way you take care of your body—more love, more kindness, less negativity and criticism.
Maybe you'd like to ditch that job or relationship that's sucking you dry.

Maybe you've tried to make changes in the past, but things didn't work out so great. Believe me, I get it because that's my experience too! And what I KNOW FOR SURE is that clearing out MINDSET BLOCKERS is the key to real and sustainable change in ANY area of your life.
The GOOD NEWS is it's never too late to try again. This time, with more support. This time, with a professional mindset coach who can get to the heart of what's been stopping you, and help you make changes that stick. A coach who works through her own mindset blockers and believes you can too, and who works by your side to help you transition into the life you envision. A coach like… me!
As a certified master coach, I work with women who are ready to stop suffering and start planning…stop dreaming and start doing. I'd love to hear what kinds of changes you're envisioning. We can roll up our sleeves, schedule a series coaching sessions, dive in, and start making it happen! Woo Sa!!
— CONTACTING ME —
To schedule your first coaching session, please email me at: Rene@cReneCoach.com
In your email, please share a little info about yourself. If possible, share what you'd like to focus on—your career, your body, a life transition, a particular issue that's coming up for you, etc. If you know EXACTLY what types of changes you'd like to make, then tell me everything! If you're not sure yet, that's OK too. We'll clarify all of that soon.
OR
Put yourself on my calendar for a free 30-minute Discovery Call, http://crenecoach.acuityscheduling.com/.
I look forward to hearing from you! Meanwhile, you'll find information on my coaching packages and pricing down below.
— COACHING PACKAGES —
FREE CONSULT SESSION: Let's chat to find out how I can help you get what you want!

– One 30-minute phone session: We'll discuss where you are, where you want to be, and if my programs and services are a good fit for you to get there.
Investment: Your time
30 DAY LET THAT S%#T GO YOU + ME COACHING (GET MINDSET-BUSTING CLARITY)
– Four 60-minute phone sessions (scheduled during a 4-week period)
Identify the limiting beliefs, shoulds & oughts that block you from living the life you crave

Learn how to get (and stay) out of your own way (hint: It's NOT them, it's You)

Start making choices that come from inner wisdom not external judgemen

t
– Soul-freeing tools, worksheets, and exercises to cement your change
– Four weeks of support and conversations (phone, text, or email) during business hours
Investment: $1500  (If you decide within 14 days of completing L.T.S.G. that you want to do ALL-IN, your L.T.S.G. payment will apply to your ALL-IN investment)

3 MONTH ALL-IN L.T.S.G. YOU + ME COACHING (MINDSET CLARITY + ACTION)

– Twelve 60-minute phone sessions (scheduled during an 8-week period)
Identify the limiting beliefs, shoulds & oughts that block you from living the life you crave
Learn how to get (and stay) out of your own way (hint: It's NOT them, it's You)
Start making choices that come from inner wisdom not external judgement

Connect to what you crave
– Soul-freeing tools, worksheets, and exercises to cement your change
– Twelve weeks of support and conversations (phone, text, or email) during business hours, plus an additional four weeks of support following your last phone session
Investment: $3500 (If you decide within 30 days of completing L.T.S.G. that you want to do ALL-IN, your LTSG payment will apply to your ALL-IN investment)

— CLIENTS ARE SAYING —
"Being coached by C. René has truly been a life transforming experience! She has a gift for hearing what you say and then hearing what your SOUL is really saying. This allows her to quickly cut the fluff and get to the heart of the issue. She has a spirited way of bringing you to truth and accountability without being harsh. Each coaching encounter is inspirational, invigorating and life renewing." Client, Human Resources Director

"If you are ready to do the work, she coaches you to personal revelation and how you can define and implement your plan for the life and future you desire."
Client, Organizational Psychologist
"Before I began my coaching sessions with Cheryl, I struggled with managing the stress of my new position leading a non-profit. As someone who had ways of working through tough issues, I needed new ways to identify the root cause of my stress and ways to deal with them. Cheryl helped me learn how to pay close attention to how stress manifested itself in my body. She also taught how me to prioritize the good and the bad challenges. She listened intently without judgement and always ended our sessions on a positive note. She would check in with me about how a particular interaction went and what steps I took to work through the situation. After talking with Cheryl, I always felt more empowered and remembered my agency in the situation."
Client, Non-Profit CEO
Collage, She Believed There Was More, rendering by artist(and friend!) Adrienne Marshall