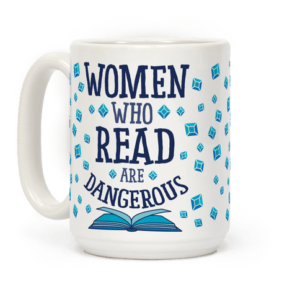 A few months ago, I did a FB live about 'letting that s*%t go' and it's been one of my most popular communications! Clients and subscribers still mention it to me. I was speaking to you and to myself and it's an ongoing conversation, right??
I love seeing clients drop their junk, which is mainly THOUGHTS around The Thing as opposed to The Thing itself. Fearful thinking that we allow to stop us from having what we want:
a better (or the best!) job
a relationship with someone you love passionately or ride-or-die girlfriends
your best body/health
a trip you keep dreaming about
time to spend in your garden
freeing yourself from other people's priorities and spending your time on your own agenda
starting that revolution you keep talking about!
As soon as you open your mind to the possibility of Your BIG Yes to the life you've been craving, the shift starts…the path begins to clear…and you're able to see and live what truly matters.
Since that post, I've helped women move past their crap to drop relationship drama, work drama and I even conquered my debilitating fear of driving. Woot!!
There's power in our coming together, talking through the tough stuff and putting on our crowns. Yes! Look out world. Informed women ARE dangerous!!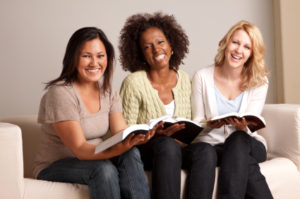 To provide a cool platform for that, I'm starting the Freedom Chronicles Virtual Book Club. Each month, I'll choose a book from the self-help category and lead a robust, thought-provoking, action-motivating discussion that will help you find your way if you have the will. The cost for participation: $35 per book discussion (book not included) and that gets you:
a facilitated book discussion by a Certified Life Coach (moi!)
calls held the 4th Thursday of each month at 6pm CST(recording provided)
choice of your favorite book format(the book is NOT included)
a seat in your fave comfy chair plus gas saved because it's a Virtual Book Club
1-hour Zoom calls for online discussions in which you can choose to be seen or only heard
membership in the private Facebook group, L.T.S.G.
the connection and shared wisdom of engaged women you want to know
spot coaching by a Certified Life Coach (again moi)
a takeaway sheet with book and discussion highlights, Ahas, and coaching tips
a discount on other cReneCoach services and events(after 3rd book discussion)
What this doesn't get you:
something else for you to feel guilty about! While it's ideal to read the book, it's NOT required and you will always benefit from the discussion and the FB group (I only read the first page of  The Road Less Traveled and count it as one of the most impactful ever!)
an uptight, rule-driven group…None. Of. That. This will be a confidential, no judgement, no drama space for women to be inspired to make needed change. Period.
a personal coach…spot coaching will be just that, in the moment. No one will be allowed to take over the hour being coached. You're always welcome to opt-in to my other services for an in-depth coaching experience.
Why is there a fee? Because one of the huge lessons I've learned is that we as women devalue our time and I now own my value.
September book selection: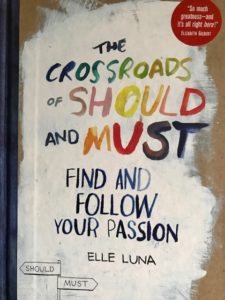 The Crossroads of Should and Must by Ella Luna!!  The book's tag is…
Find and Follow Your Passion

This is REAL, not Woo-Woo, people. It's one of my favorite books and we will be talking practical steps. If this resonates with you, sign yourself up and start reading.