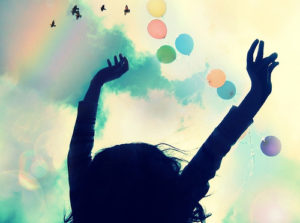 Is your life plan feeling like a life sentence? If you're not sure about Your WHAT but know Your NOW isn't IT, Let That S%#t Go! and get needed CLARITY to MOVE into that life you've been dreaming about.
This life-changing 5-week program is for you, if…
– You're a frustrated woman who knows there's more and is highly motivated to get your 'more'.
– You're a woman who has a big passion, dream or goal that you've been afraid to act on or believe that you can't have.
– You're ready to live in FREEDOM instead of obligation.
– You know the value of investing in yourself and are ready for a change-you-want return on investment.
– You love connecting to and learning from other like-minded women who believe that living one's best life is an obtainable reality.
– You want a Personal Action Plan with 'where-to-begin' Clarity.
Let That S%#t Go! helps you figure out WHAT you really want, WHY you don't have it and HOW to get it.
Get Desired Clarity: If I waved a magic wand and eliminated all of your barriers, what would you be doing (your unrealized passion project, lifestyle, or life mission)…where would you be doing it?
Learn tools and resources that help you shatter internal mindset blocks that are the core reasons for your not getting what you want and how to stay focused on moving forward.
This program is NOT for you, if…
– You believe hope is a plan.
– You're ok with continuing to nibble cheese with your whine.
– Being in the same place (mentally, emotionally, physically) this time next year works for you.
My Promise:
You will leave the Let That S%#t Go! program with Clarity on What you want and a Plan for How to get out of your way to get it.
Program Delivery: A 5-week teleclass that gives you the flexibility of connecting by video and/or phone PLUS recorded sessions if you're unable to attend the live sessions. There are group and individual sessions.
Who: c.René Washington is a Master Certified Life Coach and Mindset Maven with over 30 years of career and life coaching experience. She walks her talk, successfully transitioning through divorce, major illness, grief, and career shift. She's passionate about coaching women who are fed up with settling for less than their 'personal possible' and loves seeing them walk into their best life chapter. She's also excited about the neuro coaching certification she's currently working on and being able to include scientific backup for the mindset principles she'll be teaching in Let That S%#t Go!.
When: Starts Thursday April 5, 2018…five 75-minute sessions 4/5, 4/12, 4/26, 5/3, and 5/10.
What & How:
Online Zoom sessions that allow you to be seen, heard, both or neither…your choice.
Session recordings sent to you by the following day if you're unable to attend.
Two individual coaching sessions (worth $700 alone!): one during the teleclass and the second within 45 days after the teleclass to ensure you're still on track.
A printable workbook to record all of your AHA's and your Action Plan.
Assignments that support and cement the learning without overwhelming your already busy schedule.
Program Modules
1. Who Am I? (How Do I See…Myself?….My Situation?…What's true?)
2. What Do I Want? (Dreaming and Scheming)
3. Why Don't I Have It? Part 1 (Identify and Manage Your Mindset Blocks)
4. Why Don't I Have It? Part 2 (Mindset Block Work cont.)
5. How To Get it. (Your Action Plan)