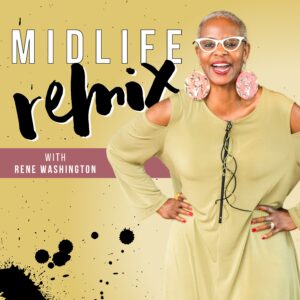 The Midlife Remix podcast, hosted by c.René Washington, is dedicated to every woman who's ready to declare, It's My Time! This show is for every woman who's ready to drop living obligated to everyone else's priorities…particularly women who are in their late 40s and up. We'll have fabulous guests, transformative conversations, and a good time! 
We cover the steps and strategies you need to transform your life from barely surviving to full-on thriving. Personal transformation, mindset reset, ageism, body image, relationships, wellness, sexuality, and more!
Subscribe on your favorite podcast platform, including Apple, Google, and Pocket to listen to all of the episodes and learn about all of the opportunities to interact with me, our guests, and our vibrant community. You can also join The Midlife Remix facebook group here.