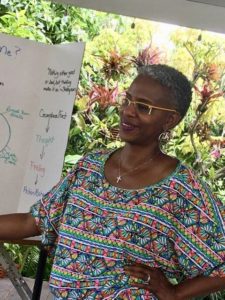 Hello Beautiful!
When's the last time you made yourself uncomfortable…on purpose? For many years, my mission was to keep myself as comfortable and pain-free as possible. I even had a motto:
I'm not here for a long time, I'm just here for a good time!
Until I hit my mid-forties.
As detailed in previous blogs, that's when menopause, stroke, divorce, grief, and job transition came to redefine who I am. Or more accurately, show me what I'm really made of and who I'm meant to be. Not Ms. Good Time Gladys, but a woman who finds a way to enjoy life through it's full possibility of promise and pain. I do this through:
Compass (following God's guidance, making intuitive decisions, heeding my first right mind)
Connection (to my Community of family, friends, clients)
Commitment (to living FREELY in Who I AM and helping as many women as possible to do the same)
Creativity (in flowing in my zone of genius: teaching midlife women how to drop their mindset blocks, prioritize their goals, and reach them)
Consistency (in how I show up for my community)
Capacity (staying laser-focused on what's important and prioritizing self-care)
Celebration (Always!!..cuz Life is tough AND BEAUTIFUL!)
I've also learned to embrace DisComfort and what pain comes to teach us.
Mr. Washington and I enjoyed a fun and interesting train excursion from Birmingham, AL to New York, NY…30 hours going and 23 hours back. (Yep!) We'd talked about it for years and I always talked myself out of it because I was afraid it wouldn't be worth the possible discomfort. There was some discomfort (which I detailed in my private Facebook group, the Midlife Manifest), but there was also lots of uninterrupted conversation time with hubby, great landscape views, and time to catch up on a stack of newspapers I've been saving back to February (yes, I'm THAT kind paper/magazine junkie!).
We're planning our next train trip and I'm thinking of other things I've delayed doing out of fear of discomfort, possible embarrassment, etc. I may not know exactly what to expect, but as with the trip, once I DO IT, then I'll know and adjust and adapt as needed.
"Wouldn't take nothin' for my journey." ~ Maya Angelou
I'm taking it to a new level. What about you?
c.René
cReneCoach.com
If you want to hear more about that train journey AND how to (re)claim this best life chapter, join us in The Midlife Manifest facebook group, here.
Ready to do the work to reach those delayed/deferred dreams and goals? Join the smart and committed women who are already registered for my six month master…sistermind, Let That Sh#t Go that shows you through my signature 9-box framework, how to move past your blocks and bring those dreams and goals to fruition. Schedule a session with me to find out full details and apply for a seat at ConnectWithRene.com.
Don't want to miss a blog/newsletter? Sign up here.