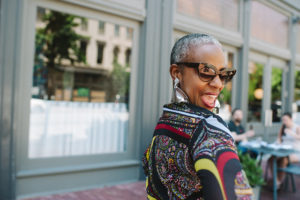 Hello Beautiful!
A few weeks ago, I was in a bit of a funk. As previously mentioned, I co-facilitated a successful live version of Your Next Move, my program on getting work you love. It was a pretty amazing experience watching eight women (who didn't know each other) bond through the vulnerability of moving from being afraid to believing in new possibilities and crafting plans to get them. They formed their own Facebook group and are doing meetups to keep each encouraged and on track.
Why was I in a funk after that? Because I went from "Now" to, "Okay, What's Next?" And because I was tired. I put 'Next' on pause, took a nap, and allowed myself to bask in MUCH gratitude and a little 'pat myself on the back'. Not for what happened in the class, but for the fact that the class happened. For saying "Yes" to opportunity without knowing outcome.
I came across a magazine article interview of mine from six years ago, http://b-metro.com/b-yourself-cheryl-myers/1640/. If you take a few minutes to read it, you'll see that several things have changed: my age (58), my work status (from corporate to business owner), my first name (using my middle name), my last name (got married), my mom (experienced the shock of her unexpected death) and I'm no longer "hoping" to be freed from a daily schedule.
I Am Free.
But, I was always free. That's the tricky thing…the minds#%t. We tell ourselves we can't do XYZ or we have to do ABC,  when the only thing we must do is die. The. Only. Thing. Everything else is a choice. You may not like some of your choices or you may feel compelled to do 'what's right' in other instances, but…
They. Are. Still. Choices.
I coach my clients (and myself) on this truth: Time is passing whether we act or not. Why not let it pass with your making PROactive choices instead of REactive choices or the choice to remain stuck.
It was good re-reading the interview and reflecting on all of 'my next moves'. Moves that I had no idea in April 2011 would bring me to where I am today. I learned to trust the journey more than I focus on the destination. I'm still loving life and Mr. Washington. Being in the business of helping more and more women choose their version of happy is the cherry on top!
What I Let Go? Bye Bye funk. Rest and Reflect. Hello NEXT!
P.S. Health Coach Renee Reid is a woman who chose to get unstuck. She was partly inspired by the 12 Days of Thanksgiving to get moving on her dreams. Check out her new podcast, Welcome To Your Life, available on Itunes! Its goood! Plus her name is Renee. Just sayin'. 😊