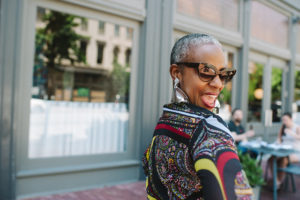 Have you ever run from yourself and ended back with yourself??
"Been around the world and I, I, I
I can't find my baby
I don't know when, I don't know why
Why [she's] gone away
And I don't know where [she] can be, my baby
But I'm gonna find [her]." ~ All Around The World by Lisa Stansfield
Yep, I've literally been ALL around the world and my 'business baby' is FINALLY found! DUH! It's been in my face for months. L.T.S.G. has resonated more than anything else I've done but I was afraid to run with it. Afraid it was too edgy and potentially offensive. What it actually is?
My truth. Your truth. Owning it.
WHO Am I? cReneCoach…the Let That S%#t Go! Queen
WHAT Do I Do? I help highly motivated women get out of their own way and live the life they crave through deep, action-oriented mindset work.
WHERE? I do this through group teleclasses, small group Queendoms (I don't particularly like the term 'mastermind'), fun events, and Woo Sa retreats.
WHEN? Nowwwwwww!!
I've reworked my entire business plan to focus solely on doing mindset coaching that will propel women into their dream lives. And doing that is a big part of MY dream life.
Stay tuned for the opportunity to join the L.T.S.G. teleclass that starts in January. For those who want to go deeper, there will be a smaller group opportunity post-teleclass (March) to continue the work (The Queendom). There will also be a retreat (hang on retreaters, it's coming!) and other cool events throughout the year.
If you're ready to 'find your baby', WhatEVER that is for you…re-setting your mindset for personal success is THE FOUNDATION for true sustainable change. You must go IN before you can manifest OUTside yourself.
Attached is my business manifesto (you'll create a personal manifesto in the teleclass),  cReneCoach Manifesto, https://crenecoach.com/crenecoach-manifesto/
If we are aligned, Let's Work Together.
P.S. My bestie, Sharon Sherrod (aka Lucy) and I are doing a podcast!! We're starting with FB Lives and the first one is Friday 10/13 at 12:30 CST. Be there or catch the replay. It's gonna be a blast!
P.P.S. Here's the link to Around The World. Get your dance on! https://m.youtube.com/watch?v=PXifLDoL1OA