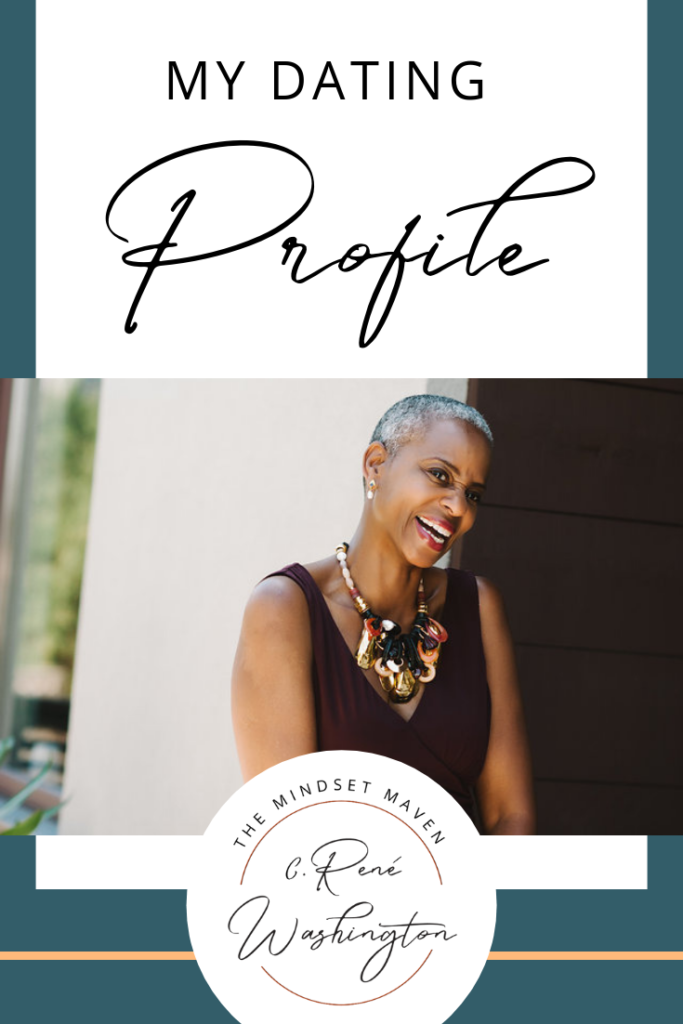 A lot of people have mixed opinions on dating profiles and I've admittedly been on the 'not for me' side of the equation. Recently, my opinion evolved … not to start dating. I'm married to the incomparable Mr. Washington, so that's out. LOL! A dating profile is all about distilling your amazingness into a few questions to attract the right one for you. It can feel like a lot of pressure, but after seeing some friends experience success with it, I now find the process can be a cool way to get clarity on what you want. For fun, I decided to create a little dating profile here but with a twist. It's my "dating profile" for the type of women I LOVE working with the most. I guess it's my "business profile."  

Here we go:

Name: c.Rene Washington aka The Mindset Maven

Occupation: Life Coach

Self-Summary: I help successful midlife career women let their shxt go and rock their retirement years by living in their purpose and passion!

I'm a kick-ass master certified life coach who helps women flip their 'everybody else' script to one that prioritizes their dreams and desires because I believe midlife years are the best years for women to fully step into their power and passion.

I'm Really Good At: Giving premium support to women who want to maximize their post-career years by getting rock solid certainty on who they are, what they want, the plan to get it … and keep it.

Interests: Broadway FAN-atic. Hubby road trips. Girlfriend excursions. Books. ALL the arts(dance, great t.v., movies, art exhibits). Coaching retreats. Jigsaw puzzles. Shaking my groove thing. Dessert.

What I'm looking for: Midlife women near the end of successful careers who are ready to focus on themselves and want more than a financial plan, you want a life plan OR you're already retired and need a pivot plan

Favorite quote: Let that shxt go!

You should message me if… you want to create a life strategy that frees you from living other people's priorities and lets you FINALLY live that life you've been craving.

(P.S. — You really can message me here or here)

#LetThatShxtGo! #ItsYourTime #MidlifeManifest