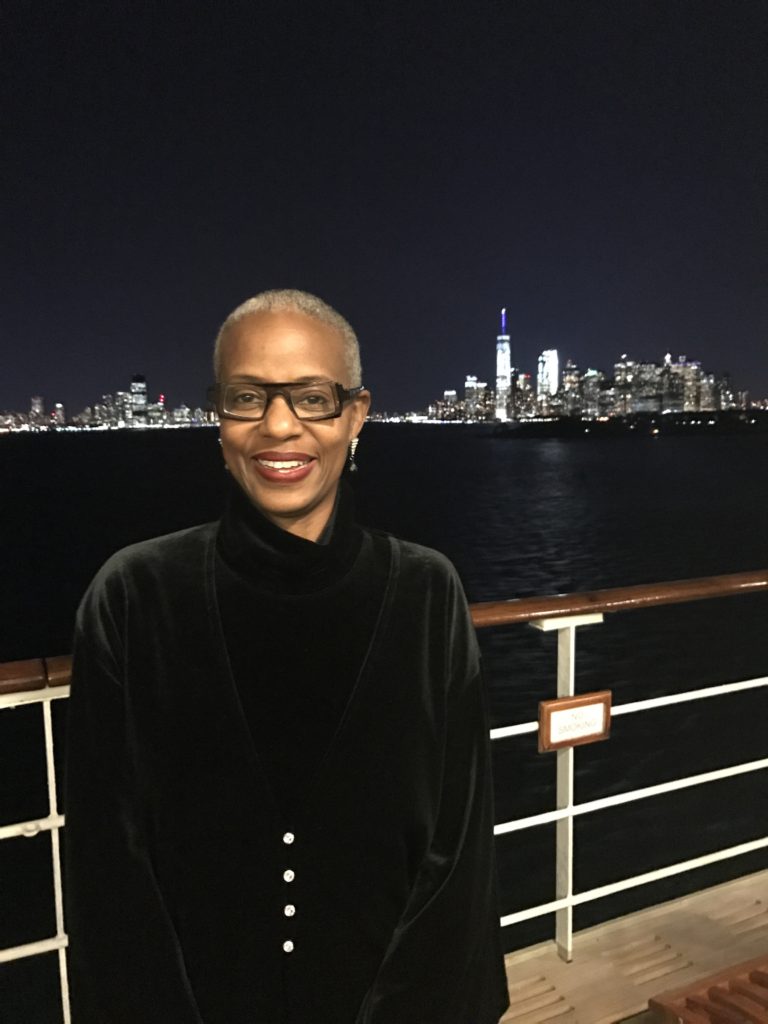 Hello Beautiful!
What would you do if you weren't afraid?
I asked this question in my Midlife Manifest facebook group (join here) and got some really interesting answers. What's most interesting is that I know every desire could be achieved by the woman who shared it.
Every. One.
As I've shared before, there's real fear and F.E.A.R. (false evidence appearing real).
What if you fail? What if you look stupid? What will people say? What if you waste money? What if it hurts?
What if you do, they do, you do, it does?
What if you don't, they don't, you don't, it doesn't?
The image above is me three years ago embarking on a voyage (voyage not cruise) from New York City to the UK on The Queen Mary 2 ocean liner (ocean liner not ship). It was a voyage I took with my coach to learn how to lead amazing retreats and the big bonus for me was that we'd be going to Downton Abbey filming locations. The Queen Mary 2, a city unto itself, was my home for five days and truly an experience of a lifetime. Three big takeaways:
The voyage was in November and we hit a major storm that shook that 79,300 ton people-mover like it was a tug boat! I was so end-in-mind focused on the What (retreat training/Downton Abbey) that I didn't think much about the How (the actual journey). That was a good thing! Because I would have 'f.e.a.r.ed' myself out of a 'gift that keeps on giving' journey. There were hundreds of multi-timer voyagers on the trip who took it all in stride and NOBODY DIED (ain't gonna lie that I didn't consider that titanic possibility LOL).
Every YES I gift myself exponentially expands my vision for living this second half in purpose and passion. I did visit the Downton Abbey locations…including dining with Jessica Fellowes (author of the show's companion books) at the phenomenal Clivedon House, the hotel Duchess Meghan's mom stayed the night before the royal wedding. I had high tea at the London Ritz (the presentation, the scones, OMG!!), and made new connections to incredible women, I may have never met otherwise.
I made a huge dollar investment (several thousand) to go on that coaching retreat and THAT's what my fear was based in: was I crazy to spend that much money?? When I was going through the potential danger of the real storm…something I hadn't even considered, I had to laugh. This is life! No matter how careful or how crazy we're being, storms will come. I'd rather be in the midst of accomplishment than in complacency.
I will ALWAYS choose to walk fearLESSly towards realizing my dreams because I know NOTHING is wasted. I worked hard to earn this rewired retirement life. That doesn't mean I feel no fear, it means I feel less fear…just enough 'less' to take a step. The lessons and the blessings come in ways that continue to stun and amaze me. "And I wouldn't take nothing for this journey." (Maya Angelou)
So again, I ask: What would you do if you weren't afraid? I'd LOVE for you to send me your responses. And for a longer conversation, you can schedule a life strategy session here.
#MidlifeManifestSistermind #TheRewiredRetiredLife
P.S. Ready to start working your post-career plan or retired and need a new plan? Join the Midlife Manifest facebook group, here, where there's ongoing opportunity to learn, grow, and rock your best life!