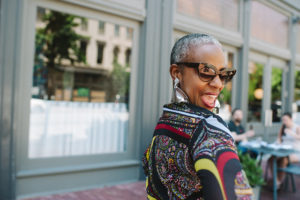 Had a chat with one of my A-team friends (accountability team) who is also a solopreneur. She was raving about the positive turn my business has taken with new clients, new opportunities and how my putting myself out there is finally paying off.
She also commented on how she loved that I combine fun with training for my craft and it inspired her to incorporate fun into staying on top of HER craft. Now she gets her c.e.u.'s in cities she's always wanted to visit, staying in upscale hotels, getting spa treatments and having a blast!
I am a Pleasure Principle woman! Life is difficult all by itself. When I find myself feeding THAT beast, I press the 'stop that' button on that 'ish', count my blessings, and course correct to happy.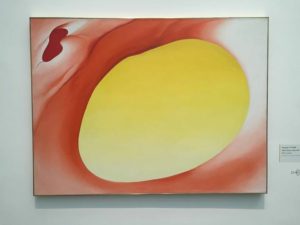 This pic is from the Georgia O'Keeffe museum in Santa Fe, where I planted myself for a life-altering week at Gail Larsen's Transformational Speaking training.
Work I Love + Sidenote Pleasure = Bliss
Over the past 18 mos., I've also trained in Savannah, NYC, on the Queen Mary crossing the Atlantic Ocean, London(high tea at The Ritz, ya'll!!), and Louisville. My wallet is crying(I'm MUCH  better about balancing pleasure with fiscal reality. 😱), but I wouldn't trade those experiences for anything! There's enough 'what I love' built into the work I've Chosen to re-energize me and push me through the tough part.
It's a cliche and it's true:
Life is what we make it!
What are you willing to do to make yours what you say you want??
Change jobs?
Enjoy dinner and a movie with only your Fabulous self?
Renegotiate a relationship that's become untenable?
Wear that new strut-your/stuff outfit, Now?
Whatever it is…
See the links below for help with that. ❤️
***New pricing, so if you haven't looked lately, check again!***