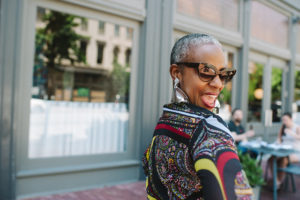 Hello Beautiful!
One of my "over-the-moon happy" retreaters said, "I'm here for the glassmaking."  The theme was Design The Life You Love and I chose a glassmaking art gallery as our coaching workshop location. The agenda was group coaching that morning and a glassmaking class that afternoon.
It was one of the most incredible days ever for all of us! And it happened because each of us honored an inner nudging for more.
"I'm grateful but I'm not complacent." ~ Robin Roberts
My goal was to design and deliver a life-changing retreat for women that would be beyond what they would do for themselves and would have lifelong impact.
One attendee came because she'd done a glassmaking tour in Italy and the chance to make her own glass art tipped the decision scale for her.
Another, after years of gray responses to the 'what do you want for Christmas?' question, got real clear: All I want is Rene's retreat. Her wonderful husband surprised her with it.
Another, knew it was time to reconsider her life direction and when I told her about my retreat, she said "Yes" and immediately registered and paid.
Another had been praying about wanting a retreat, heard about mine and she was in.
These women came together…most not knowing each other…and left bonded to each other and committed to  Yes To Me action. Whatever their motivation for coming was, they left with so much more!
I left even more validated in this intuitive path I'm walking, in which I can sometimes only see one foot ahead. Getting here was twisty. I had to cancel the original date due to a family member's illness. Several women who said they were going dropped out. I ended up with half of the rooms filled I'd contracted with the hotel and they didn't want to let me out of it.
But through all of that, I felt an inexplicable calmness and inner knowing that this retreat was going to happen, it would be my best event to date, and All. Would. Be. Well.
That's exactly what happened.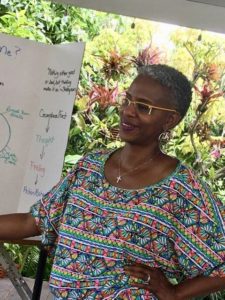 There are a zillion reasons we can give ourselves for why What We Want can't happen and every woman on this retreat, including me, had some. What I know for sure is this:
What separates the truly happy…the Bam! living women… from the Blah Blah Blah dying-on-the-vine women, is that they consistently find the way to say Yes! to the things that light them up.
For every reason you tell me you can't do what you want, I can tell you about someone who (in often worse circumstances) did. Because the blockers aren't external, it's a head game. That's where your change happens.
If you're ready to BAM! your life…
If you're at the stage of life where you're exhausted in carrying everyone else's priorities to the exclusion of yours…
And you're ready to answer the What About Me? question…
Get yourself into my free Facebook group, The Midlife Manifest where tips and info will be shared on making these years your time to stop driving yourself into the ground and start thriving! Click here, answer the prompts and if it's right for you, you're in!
Whether you want to rock these years or roll through them gently, It's Your Time.
Reclaim It!
♥️♥️♥️
c.René
cReneCoach.com
P.S. Those extra rooms I didn't fill? Thank God I didn't because our group size was perfect AND I was also extended grace in not being charged for them. Following my inner compass never fails me!
P.P.S. Check out this short video of what we did in our glassmaking class. The coolest hottest experience ever!  LOL