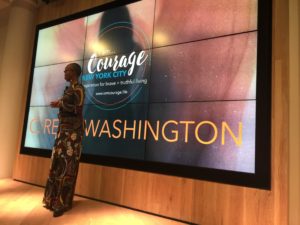 Last night, while driving to meet girlfriends for dinner, I felt anxious and afraid. I was listening to MSNBC journalist Joy Reed interview Rev. Traci Blackmon. Rev. Blackmon gave a chilling account of what she witnessed in Charlottesville over the seminally horrifying weekend of  hate group terrorist activity and her reaction to 45's lying characterization of those events and emboldenment of the perpetrators.
Throughout my life, I've been in speculative conversations with friends and family about what we would have done during slavery and conversations of gratitude for the sacrifices of our ancestors and the more recent sacrifices of civil rights foot soldiers…some we are related to or knew.
Last night, the fear of being attacked for being black weighed on me, not as a shameful part of America's historical record, but as a clear and present danger NOW. We talked about this at dinner and stated that even depending on the police for help is not an option since we don't know who's in the hate club and who's not. I stayed up most of the night watching the news shows and feeling more and more depressed and pessimistic about who we are as a country(doing less of this!).
And as always, God pulled me off the ledge of despair. The title of my morning devotion??
Not Fear But Faith (The Daily Bread)
And it's as simple and hard as that! This week, Mr. Washington is away taking care of an older family member in the throes of dementia. Different friends are:
celebrating a new marriage,
preparing to move across the country,
supporting family members in crisis,
sending children back to school,
grieving the death of family members,
showing up and showing out for their J.O.B.
We do all of this while living with the added weight of knowing we're an identified target. I'm a person of faith who loves Jesus. These hate-filled asshats who claim to do so are liars! If you aren't a believer, please also don't believe they represent my faith. If you are, we've got to be louder than than them and I don't just mean by speaking…but do speak  Truth to Krazy whenever you can!
My 'loud' will also be in doubling down in my life mission to Free The Women. To coach as many women as possible to Live Free by doing work that feeds their purpose and allows them to direct their influence and resources towards what they value. I believe we have the power to change this world for good and say Bye to those who can't get on board with that.
"Ain't gonna let nobody turn me 'round." Negro spiritual and civil rights anthem
We have to Know It. Own It. Live It. That requires stepping over fear and into Fierceness.
Join me.
P.S. If you want help getting clear on what your lane of Fierceness looks like and how you can walk in it, check out my coaching packages, or join my virtual book club. Or do both! https://crenecoach.com/clarity-to-freedom-packages/ 
https://crenecoach.com/the-l-t-s-g-book-cluba-crenecoach-jam/
P.P.S. Already know that work is your issue or you want 'next chapter' planning, join the Fab group of women who signed up for Your Next Move, the teleclass to get you moving on that! https://crenecoach.com/your-next-move/