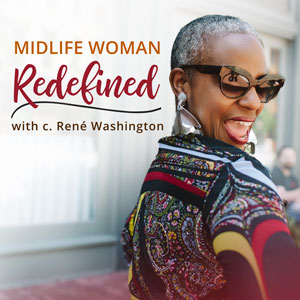 Welcome to the Midlife Woman Redefined podcast, my friends!  If you are a woman coming out of a successful career, out of raising children to adulthood, being queen community volunteer, a woman who believes in the value of investing in personal development and want to now focus on prioritizing yourself and your dreams while living in purpose and passion, then this is the show for you.
To celebrate the launch of the podcast, I'll be giving away five $100 Amazon gift cards to some of my lucky listeners. Keep reading to find out how you can enter!
Get to know me and how this show can help you by listening to my first three episodes. You'll learn some of my most powerful tools for creating a legacy you love!
I'll be releasing a new episode every Wednesday so make sure to subscribe to the show!
YOU CAN CHECK OUT THE FIRST EPISODES HERE:
Ep #1: Welcome to Midlife Woman Redefined! – This is the kick off of many conversations that will connect you to your true identity and desires and teach you how to get them.
Ep #2: Who Are You Without Roles or Titles? – Why women often have a hard time spotlighting and talking about their own achievements, and why it's important to pause and celebrate yourself when you do things (big and small) that you're proud of.
Ep #3: The Body Compass – I'm sharing one of my favorite decision-making tools: the body compass. I use this all the time with my clients and myself, and it's such a powerful exercise for connecting with your intuition and abundant inner wisdom.
HERE'S WHAT YOU SHOULD DO RIGHT NOW TO SIGN UP FOR YOUR WEEKLY DOSE OF MIDLIFE WOMAN REDEFINED INSPIRATION:
SUBSCRIBING IN APPLE PODCASTS
To subscribe in Apple Podcasts, visit the Midlife Woman Redefined page and click on the "Listen on Apple Podcasts" button.
This will launch Apple Podcasts on your computer and bring up the podcast.
Click on the "Subscribe" button and you're all set!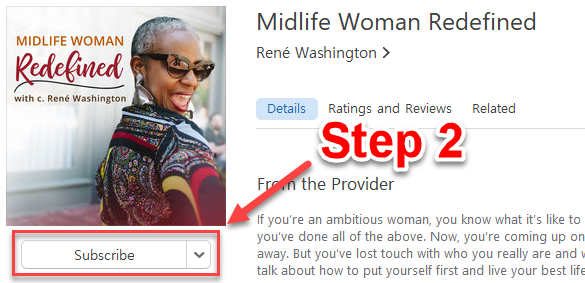 You can also listen to the podcast via Spotify, Stitcher Radio, or wherever you get your podcasts.
REVIEW THE PODCAST AND WIN
I'll be giving away five $100 Amazon gift cards to a few lucky listeners who review the podcast in Apple Podcasts.
How to Enter: Once you've listened to an episode or two, click on the "Ratings and Reviews" link on the Midlife Woman Redefined podcast page in Apple Podcasts to leave a review.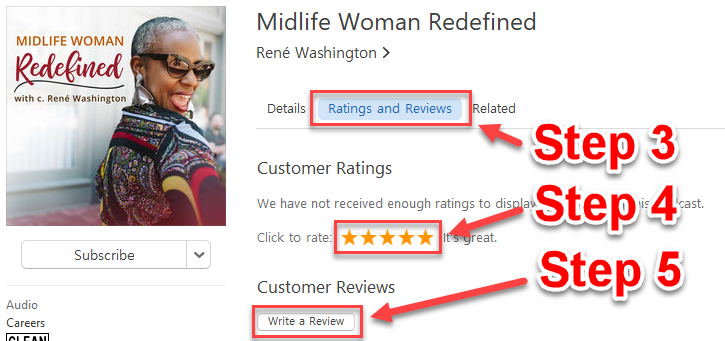 Any review qualifies you to win: I want you to be honest, tell me what you think and how I can I help you better.
Unfortunately, Apple Podcasts doesn't release contact information for reviewers so please email me at [email protected] with the title of your review for your official entry.
If you haven't yet, make sure to subscribe in Apple Podcasts now. Thanks for listening!